P.O. Box 26, Wendouree,
Ballarat, Victoria
Australia, 3355
Ph: (03) 53393673 Fax:(03) 53399900
whoosh@netspeed.com.au
(International callers please replace (03) with 613 + your international dialing prefix)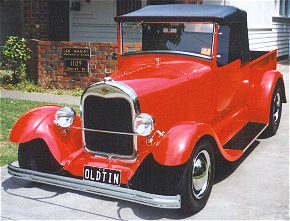 DRIVE-AWAY ROADSTER PICKUP
(Above picture for illustration only - more pictures)
SPECIFICATIONS
Old Tin provides various options to get your Hot Rod project closer to completion. One way to get your bum into a Hot Rod quicker is to purchase one of our Drive-away Pickups.
You get a new steel body and glass guards mounted on an Engineer approved chassis consisting of Holden front and rear end. Secondhand engines from Holden Inline 6 Cylinder to Chev and Ford V8's with T Bar auto. Basic detailing, vinyl bench seat, budget soft top, chrome grill shell , Dietz Headlights, painted steel wheels with chrome trims and caps. New wiring, exhaust, brake and fuel lines with good secondhand parts utilized in the running gear and front and rear ends. Painted in waterproof flat colour.
Car is checked for Roadworthy and all items brought up to proper standard with either new or good used items. It is then ready for Rego with Engineer's Report completed.
We provide a good basic starter Rod for budget or first time Rodders. "A" Model Fords are used because of the abundance of reproduction parts available and the relatively affordable cost.
Drive-away Pickups are available starting at $30,000 all up.
Please contact Old Tin for your specific requirements and pricing.