P.O. Box 26, Wendouree,
Ballarat, Victoria
Australia, 3355
Ph: (03) 53393673 Fax:(03) 53399900
whoosh@netspeed.com.au
(International callers please replace (03) with 613 + your international dialing prefix)

We have a selection of 'A' Model cowls, used 'A' Model doors and new 'A' Model doors (below). Click for a bigger picture.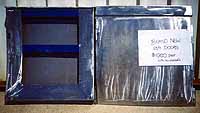 We also stock a selection of 'A' Model performance parts, old speed gear and quick change rear ends.
We are Australia's home of 'A' Model Fords and we carry the largest range of new and second hand parts in the country. We are also agents for many Hot Rod parts and carry stock of all 4 bar front and rear end items. Give me a call if you need some advice on your 'A' model Hot Rod or restoration project or are searching for that hard to get part.
Call or fax us with your needs.
Lay By is welcome on all purchases from Old Tin.