P.O. Box 26, Wendouree,
Ballarat, Victoria
Australia, 3355
Ph: (03) 53393673 Fax:(03) 53399900
whoosh@netspeed.com.au
(International callers please replace (03) with 613 + your international dialing prefix)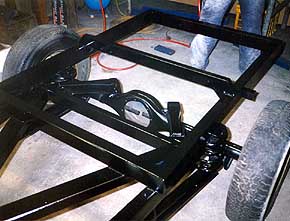 CHASSIS KITS
SPECIFICATIONS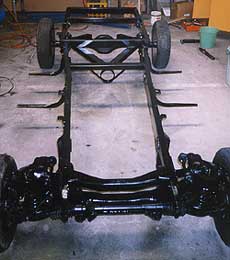 Old Tin provides "A" Model Chassis' for Hot Rods based on Holden front and rear ends. This method provides a well designed and engineered budget chassis for cars and pickups running full mudguards, vallances and running boards. They can be set up for most engine and gearbox combo's and can be upgraded to include disc brakes, 9inch diffs, coilover shocks, drop spindles etc.. They can be supplied from basic boxed and cross membered rails up to rolling, plumbed for brakes and detailed finish.
Prices start from $3000 and can range up to $8000 for the lot.
Please contact Old Tin for your specific requirements and pricing.