P.O. Box 26, Wendouree,
Ballarat, Victoria
Australia, 3355
Ph: (03) 53393673 Fax:(03) 53399900
whoosh@netspeed.com.au
(International callers please replace (03) with 613 + your international dialing prefix)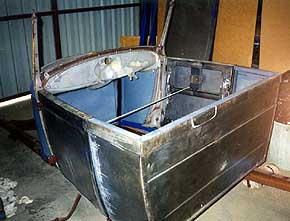 BODY KITS
Old Tin can provide you with a new steel bodied 1928/9 Roadster Pickup Body along with all new parts and panels to complete your entire Hot Rod yourself. We can either assemble the cab and bed only or completely assemble body onto one of our chassis kits.
For those capable, we will also sell separate components to allow you to build the car yourself and maybe make some changes to suit your own build style. Guards are usually supplied in fibreglass but new steel ones can be obtained
Body Kits start from $8,000 for the parts only (consisting of cowl, doors, tank, cab back, Pickup bed panels, grille, bonnet, apron, vallances, running boards and fibreglass mudguards) up to about $16,000 for a fully mounted and assembled body kit.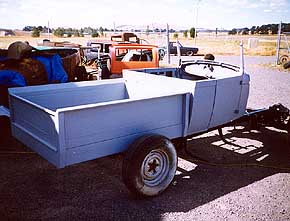 Please contact Old Tin for your specific requirements and pricing.